Sorry, your browser doesn't support embedded videos.



Auction Software
The MyCause auction platform allows participants to bid online with their smartphone, tablet or computer.
Whether for a silent auction at an event or for a online auction, the MyCause will increase the profits
of your fundraising.
Entirely designed by Eclipse, our electronic auction platform allows users to bid from any location.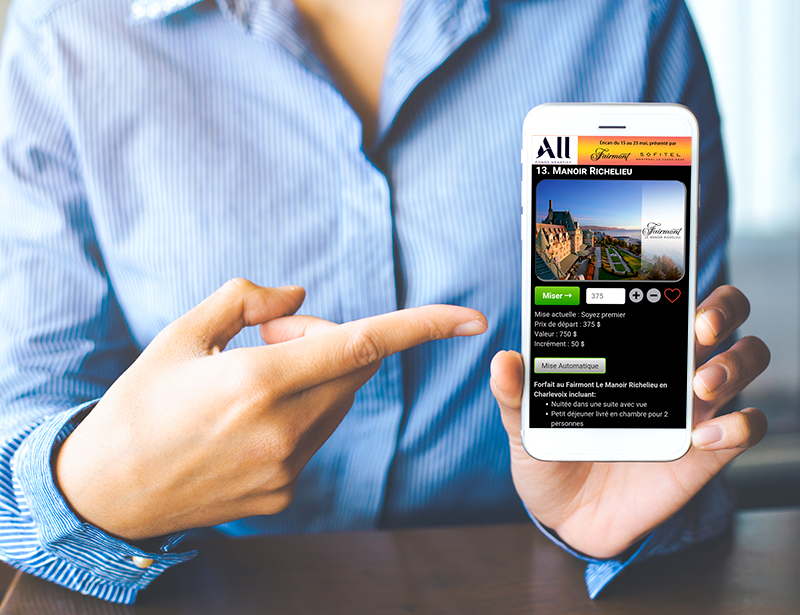 De
Many advantages
are offered with this virtual auction platform
MyCause is recognized by philanthropic organizations and participants are familiar with
Proven reliability, user-friendly, safe and bilingual
Fixed fees with no surprises, no percentage nor commissions
Easy registration process
Increased number of bids with SMS alerts and visual notifications
Payment of items directly into your bank account
Personalized support with the integration of your digital auction site
Compatible with Facebook and LinkedIn publications
YouTube or Vimeo video integration
Complete reports and web visibility statistics with Google analytics
Keep your interactive auction interesting throughout your evening!
Increase your revenue by over 30% compared to paper auctions.
Turnkey service with specialist, Wi-Fi, iPad, computers
Increased participation, people do not have to move to bid
Opening of the auction before the event to create excitement
Involvement and training of your volunteers
Use the Mycheck-in platform to optimize and speed up the check-in of your guests on their arrival (with supplements)
Benefit from
personalized support,
professional and transparent service.
No percentage on sales, donations or payments. Fixed costs with no surprises.
Whether you raise $ 1000 or $ 100,000, 100% of the sales of your items will go to your organization.
Having to its credit several major events and counting on several renowned clients, Eclipse has demonstrated unrivalled reliability and service for all its events.
AnEclipse professionnal is always available to discuss the integration of our auction platform for your next fundraising event.
Our personalized and transparent approach has enabled us to develop a long-lasting relationship of trust with our customers.
Here are some clients:
Encan Interactif, Encan silencieux, Encan en ligne, Encan web, Encan internet, Encan virtuel, Encan électronique, Encan numérique, Plateforme encan
Aussi, Eclipse est une entreprise spécialisée en audiovisuel qui a su innover en proposant des solutions interactives pour plusieurs types d'événements. En effet, que ce soit pour de l'audiovisuel, un encan silencieux interactif, du vote ou la gestion de l'accueil lors d'un événement. Donc, profitez d'un service personnalisé de haute qualité